Massive 9 is now available
17 December 2021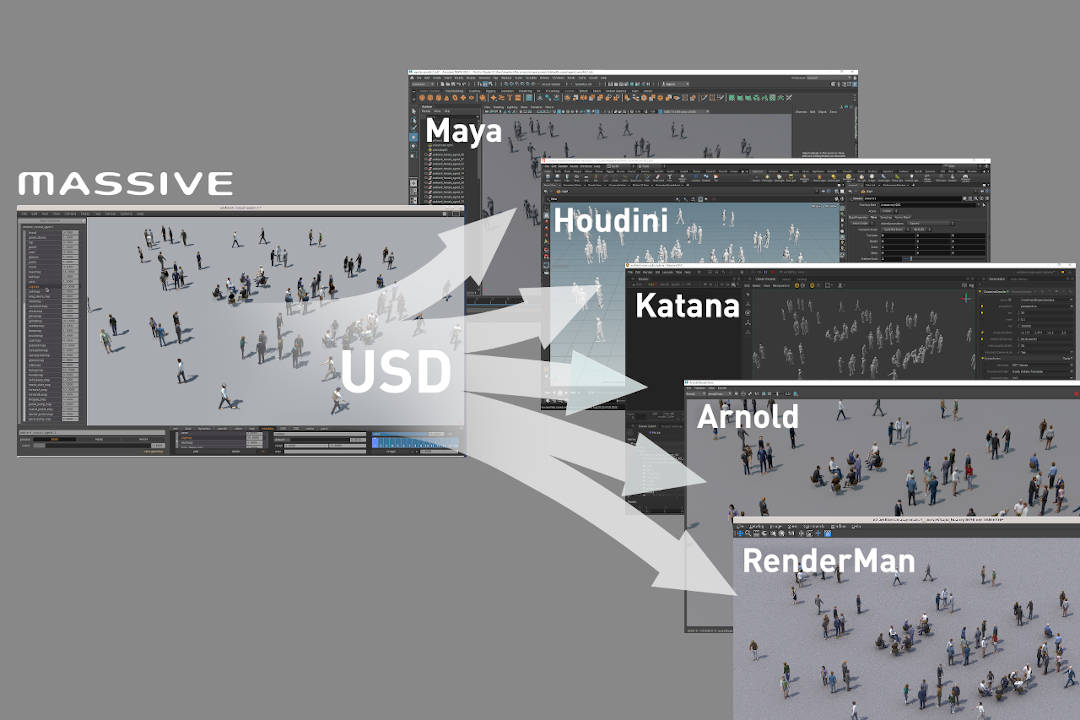 Massive 9.0 is out now with a ton of new features including USD export, the new shader page, and much more.
read more
Massive wins another Emmy
8 October 2021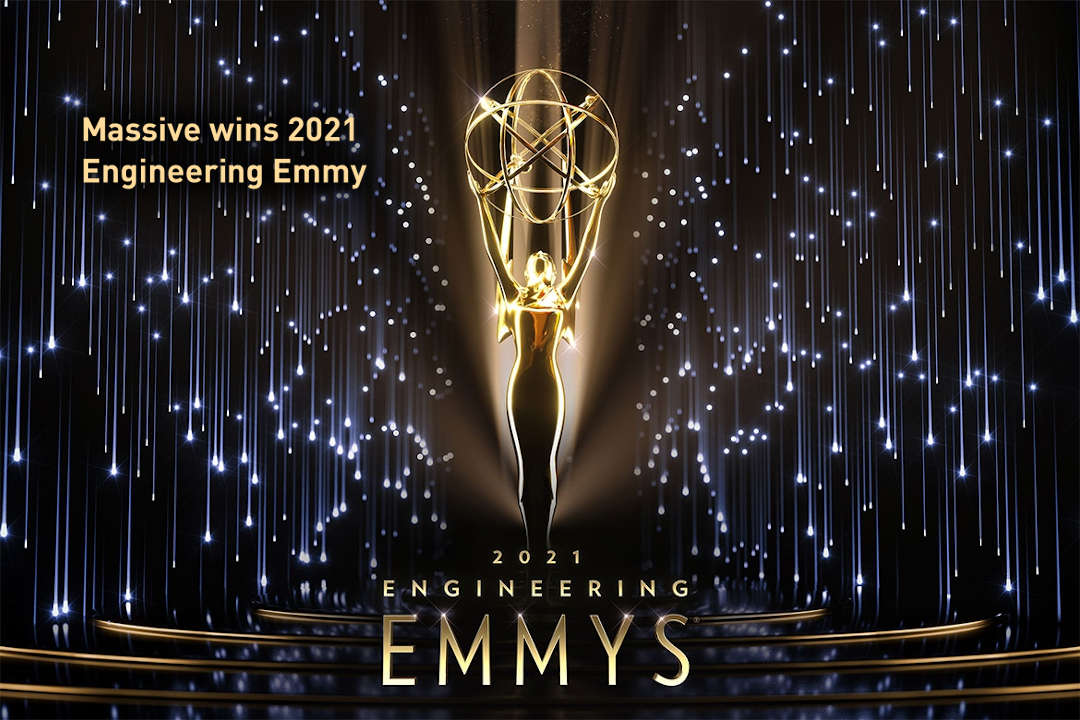 We are extremely grateful to The Academy of Television Arts & Sciences for this Emmy. Massive now is the recipient of two Emmys, and is the only Academy Award winning crowd software.
CNET Story - How Lord Of The Rings changed big-screen battles forever
31 August 2021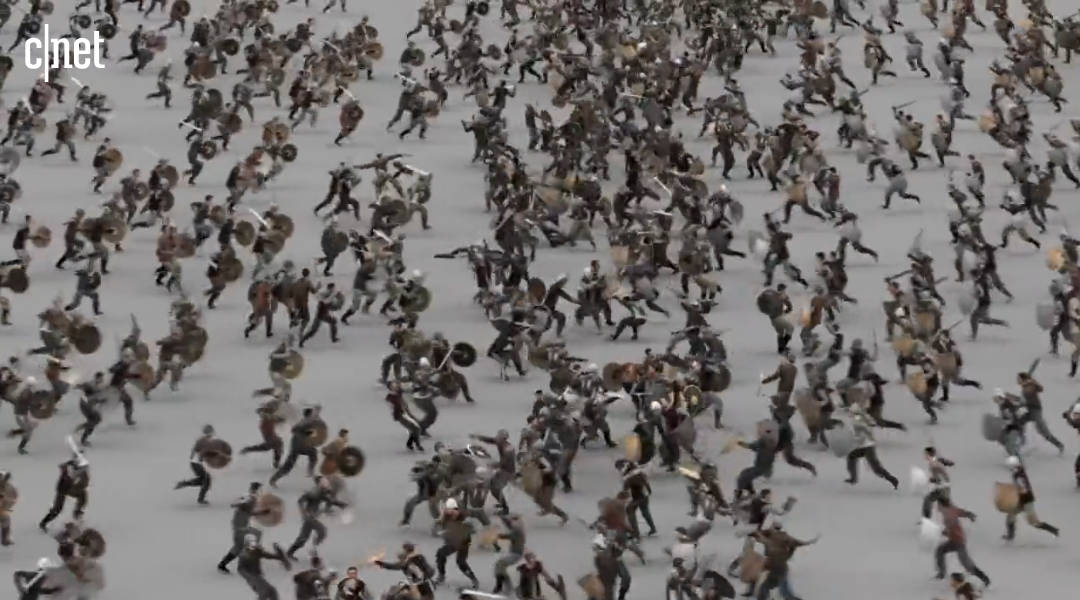 CNET has published an in-depth look at how Lord Of The Rings changed big-screen battles, and of course it features Massive quite prominently.
To read the story
click here
User Story - Scanline brings crowds - and horses - to Game of Thrones with Massive
10 September 2019

The eighth and final season of Game of Thrones received 32 nominations at the 71st Primetime Emmy Awards, a new record for a single season of television, cleaning up in multitudes of categories, including Visual Effects. Last year, we
featured
Australian-based Illoura, who leaned heavily on Massive in Season 7's 'Battle of the Bastards' episode. This month we're pleased feature the VFX work on this iconic television series once again by exploring the creation of crowds and horses by the artists from
Scanline VFX
Scanline was responsible for several sequences of destruction, and it's aftermath in King's landing. For example, in one scene in episode six of the final season, Daenerys Targaryen delivers a speech to her followers, the Dothraki and the Unsullied, in the ruins of the city. The followers here were mostly all synthetic, crafted in Massive as CG crowds by Scanline. The use of Massive is well-entrenched at Scanline, and we spoke with visual effects supervisor Mohsen Mousavi, who gave us an in-depth look into their workflow.
User Story - Massive at a52
30 July 2019

In this month's installment of our user stories series, we take a look at the impressive work using Massive by Santa Monica-based visual effects studio
a52.
This studio invested time early in implementing Massive into their pipeline, and it has helped them to generate crowds in jobs, including commercials quickly.
We look at four commercial projects tackled by a52, including the commercial
Nike - 'Future is Fast'
and the opening credits for AMC's
Fear The Walking Dead : Season 4
. Each had its unique challenges, so we explore how their Massive pipeline helped to solve them. Enjoy!
User Story - How MR. X mobilized Massive for Unfortunate Events
04 June 2019

In this month's installment of our user stories series, we conclude our look at Mr. X's Massive workflow for the recent Netflix television shows,
A Series of Unfortunate Events
and
Godless
.
The studio, which has offices in Toronto, Montreal, Los Angeles, and Bangalore, has significantly integrated Massive into its pipeline, while also developing an in-house management tool to control the entire simulation, review and submission process for the software.
How Mr. X mobilized Massive for Unfortunate Events
details Mr. X's reliance on Massive to help create the 'Vile Village' crow scenes. Crowd supervisor Simon Milner, who led the crowd work, chose Massive because it gives him the confidence to create any agent they need on a show. From simple underwater reeds to complex multi-legged creatures, flying insects and hero humans. Massive is flexible and powerful enough for him to create all the agents he needs.
Massive Wins 2018 Emmy Award
08 April 2019

Members of the Academy of Television Arts & Sciences gathered in Las Vegas last night for the 70th Annual Technology & Engineering Emmy ® Awards. Among this year's recipients in the audience was Stephen Regelous, founder and product manager of Massive, the premier 3D animation system for crowd-related visual effects in cinema and television.
The academy recognized Massive as one of the industry's most innovative companies that have materially affected the television viewing experience. Massive's ability to deliver cost-effective crowd simulation tools was a key consideration in the selection process; led by a special panel of industry peers, composed of highly qualified and experienced professionals in the television industry.
Regelous conceived and developed Massive for use in Peter Jackson's Lord of the Rings film trilogy. The application he created, became a commercially available, standalone product, that has since become the defacto standard for crowd-related visual effects and autonomous character animation. The majority of the top film, television, and games professional use Massive in their visual effects studios and facilities worldwide.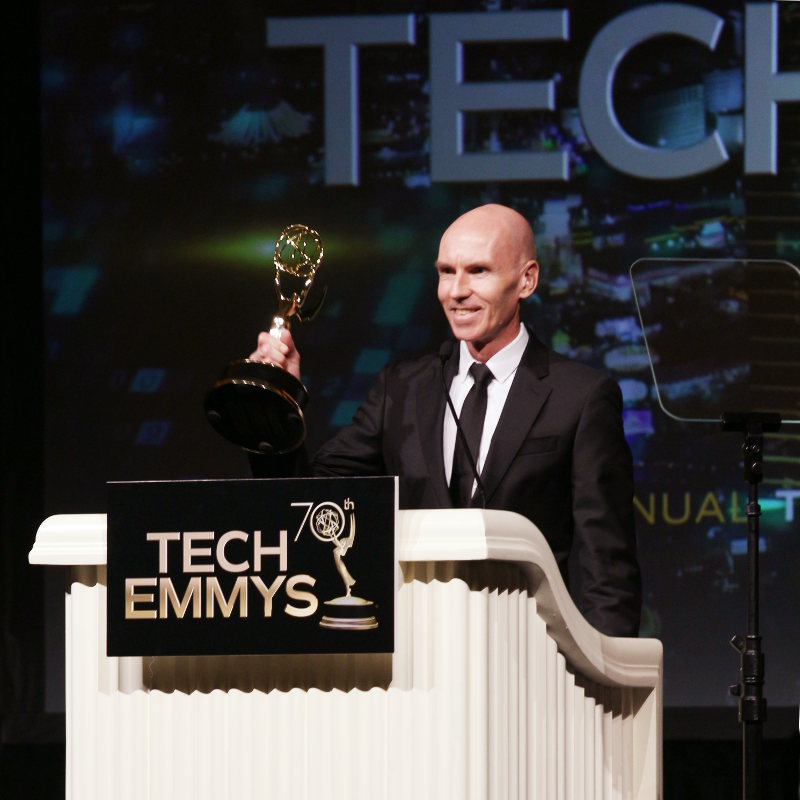 "We are ever grateful to all of the talented Artists who have been using Massive for pioneering crowd VFX for Television right back from 2003 up until recent Emmy award-winning shows. And we thank the Academy for their recognition.", said Regelous.

This Emmy Award now stands alongside the Scientific and Engineering Award from the Academy of Motion Picture Arts and Sciences, which Regelous accepted in February 2004 for the development of Massive software. In 2004, Massive won the Technological Innovation award at the 2nd Annual International 3D Awards. Regelous was also named one of the top 50 New Media Producers and Innovators by the Producers Guild of America, and nominated for a World Technology Award in 2004 which recognizes high levels of innovation in the fields of biotechnology, space, energy, and design.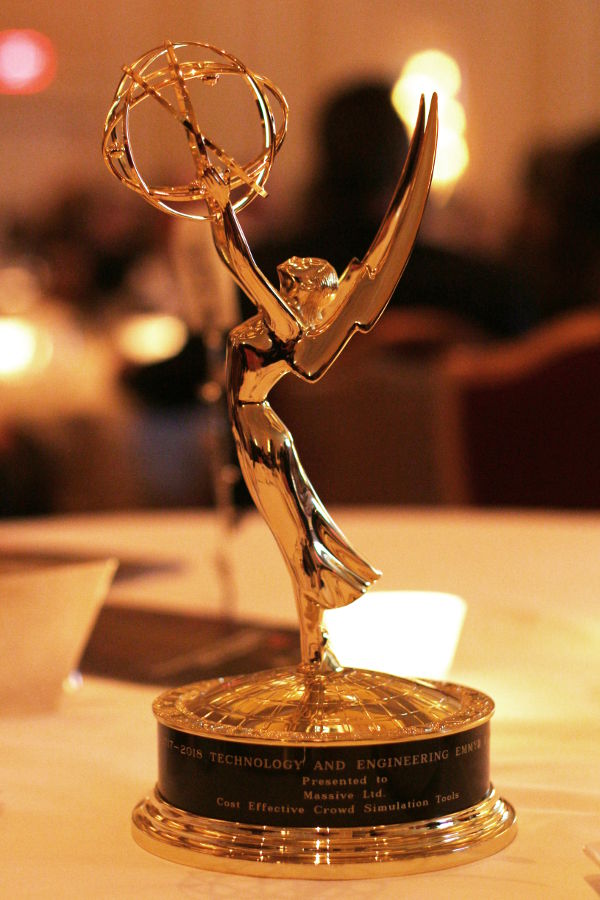 Emmy Award, is the registered trademark of the Academy of Television Arts & Sciences and the National Academy of Television Arts & Sciences. Scientific and Engineering Award is the registered trademark of the Academy of Motion Picture Arts & Sciences. All other trademarks are the property of their respective owners.


User Story - Creatures from the deep: how Massive had a hand in Aquaman's Trench monsters
05 March 2019

In Aquaman, the latest installment of the DC Extended Universe films, lead characters Mira (Amber Heard) and Arthur (Jason Momoa) venture into the depths of the ocean by boat to the Kingdom of The Trench.
Before their arrival, however, they are greeted by a flurry of gruesome creatures, known as The Trench. Large crowds of The Trench approach Mira and Arthur's boat within the rolling waves before boarding.
The hordes of Trench in the sequence - of which there are about 1500 in the water at any given time - came to life care of Massive simulations by Scanline VFX, which was able to tie in the creatures' movements directly with digital water simulations.
In this month's
installment
of our user story series, read how Scanline digital fx supervisor Julius Lechner and his team pulled it off.
User Story - Godless: Bees and flies and dead people
04 February 2019

Massive users will know that the beauty of the crowd simulation software is its ability to be deployed consistently amongst different studios, but then - equally - how to adapt it to different studio needs. That's precisely what visual effects house MR. X Inc has done with its deployment of Massive.
The studio, which has offices in Toronto, Montreal, Los Angeles and Bangalore, has significantly integrated Massive into its pipeline, while also developing an in-house management tool to control the entire simulation, review and submission process for the software.
It was a workflow MR. X used recently on the Netflix television shows
A Series of Unfortunate Events
and
Godless
.
Godless: Bee and flies and dead people
is the first of our two-part series detailing how Mr. X relies on Massive to help address VFX project briefs that invariably change once the actual shots turn up. Crowd supervisor Simon Milner, who led the crowd work, discusses how he used Massive to come up with a solution for scenes that had a wide ambit.
Massive to receive a 2018 Emmy Award

18 December 2018


We are thrilled to announce that Massive Software will receive a 2018 Technology & Engineering Emmy Award from the Academy of Television Arts and Sciences (NATAS). This award will be presented to founder Stephen Regelous on Sunday, April 7, 2019, in Las Vegas during the 2019 NAB Show at the Wynn Encore Hotel.

While Massive is well known for its Academy Award winning software for film, it may come as a surprise to some that our software has contributed to hundreds of television series and commercials too. So thanks to all of our users for your creative contributions that led to this award. We will continue to lead the way toward what's possible in both Film & Television for many years to come.


User Story - The Mill goes with Massive for Sky Sports
12 December 2018

In our latest user story,
The Mill goes with Massive for Sky Sports
, Massive supervisor Edward Hicks from
The Mill
discusses how Massive was used to help bring to life an entire stadium built completely out of sofas, armchairs, stools and dining chairs for Sky Sports 'Take Your Seat', created in collaboration with adam&eveDDBand Director Sam Brown of Rogue Films.
---
User Story - Massive and the Meg
15 November 2018

We've just posted our latest user story,
Massive and The Meg
, which looks at
Sony Picture Imageworks
use of Massive for a key scene in the Jason Statham film. One key takeaway is that Imageworks created tons of shark motion from just a single animation cycle, which proved to be a tremendous time-saver.
---
Massive at SIGGRAPH 2017
31 July 2017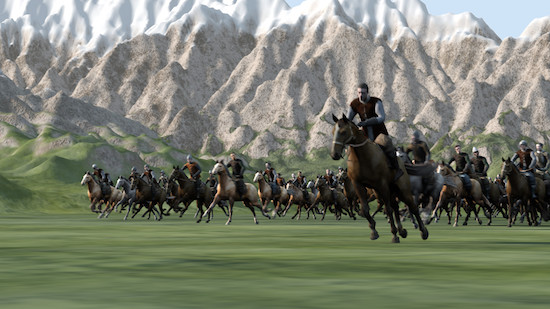 At SIGGRAPH this year we announced the upcoming release of Massive 9.0 which includes a universal plugin that will allow nearly any third-party vendor, 3D animation tool, or rendering application to implement Massive support on their own. We want to make it easy for anyone to utilize Massive's tools which is why we decided to make a straightforward 'universal' plugin that would allow Massive agents to appear in renders, or even directly in software viewports.
Third-parties have already begun to take advantage of the universal plugin. Customers who attended our user group meeting were treated to preview by
Theory Studios
of Massive Agents appearing directly in the
Blender
viewport. We're working with other third-parties, as well. So stay tuned for further announcements.
We also welcomed the newest member to our family of "Ready to Run Agents", the Horse & Rider Agent. Filming real horses at full gallop is difficult and dangerous, and animating them is too costly for many studios. Using a single Horse Agent, an artist can get the film-quality results at a fraction of the cost and control the action in a way filming real horses could never hope to achieve.
To capture the equine movements, we worked with
Profile Studios
, the group responsible for motion capture work with some of Hollywood's biggest production teams. The team at Profile spent two days capturing and mapping the movements of horses at various speeds, both in an indoor arena and outdoors in a large, open space. Dozens of biometric motion capture sensors monitored every muscle and movement on the horse, resulting in the Horse & Rider Agent's ability to gallop, canter, jump, dressage, walk, trot and more.
Please see the
Massive 9.0
and
Massive Horse & Rider Agent
press releases for more information.
---
User Story - Massive Crowds in Ben Hur
06 February 2017

In our latest user story,
Massive Crowds in Ben Hur
, Simon Milner, Senior Crowd TD at
Mr. X
provides us with an in-depth look into their use of Massive for this film. He discusses the challenges and benefits from using Massive and recounts their process during the creation of the epic life-or-death chariot race between Ben Hur and Messala at Circus Maximus.
---
User Story - Massive Crowds in Game of Thrones' `Battle of the Bastards`

12 December 2016






In Massive Crowds in Game of Thrones' `Battle of the Bastards` Australia based Iloura discuss the role of Massive in orchestrating army formations, fighting soldiers and horse actions for the dramatic scenes from the final episode of Season 6


---
Massive at SIGGRAPH 2016
26 July 2016
At SIGGRAPH this year we announced the release of
Massive for Max
, our new Parts Library, and just in time for their SIGGRAPH 2016 debut, our Ready to Run Agents got a major upgrade!
Massive for Max is not only easy to master and the most capable crowd simulation software, its also the most affordable with the introduction of Massive Subscription pricing. Users can subscribe quarterly to Massive for Max for only USD $595, or annually for USD $1995. In addition, all Massive for Max users will receive a complimentary "Ambient Agent", which normally sells on its own for USD $3000.
Massive Prime maintenance customers are receiving the new Parts Library in conjunction with the release of Massive 8.1 today. Now artists can rapidly assemble agent brains by dropping in a few pre-made parts from this library. Massive's brain parts are entirely customisable without any coding; completely avoiding the pitfalls of black box approaches found in other crowd systems. Small studios will find this lowers the barrier to generating sophisticated crowd shots, while larger studios will find the Parts Library useful for creating crowd assets that can be shared across multiple Agents as well as multiple projects.
Massive's Ready to Run Agents have undergone a significant upgrade in time for SIGGRAPH 2016. Included in the cost of support and maintenance, this upgrade introduces new geometry including additional glasses, beards, hats and a greater variety of clothing options. The existing geometry has also received an upgrade to look more realistic and contemporary. More texture and displacement maps have been added, and resolutions of existing maps have increased substantially. The end result is that these film-quality Agents look more unique than ever before, even at higher resolutions.
Please see the
Massive for Max
and
Massive Parts Library
press releases for for more information.
---
Massive at SIGGRAPH 2015
14 August 2015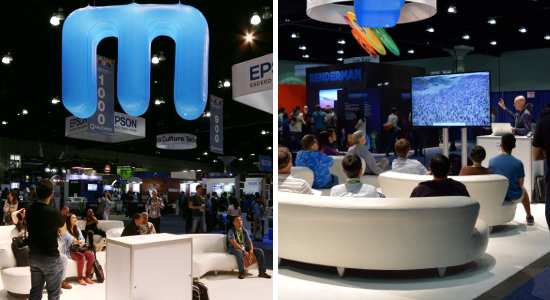 Many people came to our booth at SIGGRAPH this year. We went for something different with comfortable sofa's and just one big monitor to show the cool new things we're releasing, and a massive Massive 'M'.
---
Massive 8.0 and Massive for Max
11 August 2015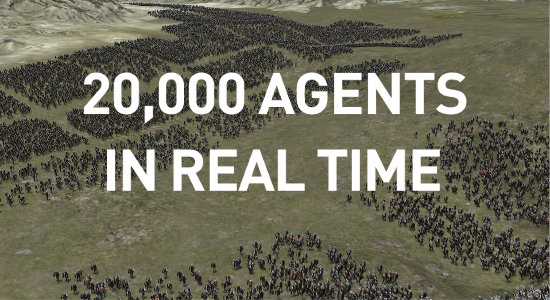 At SIGGRAPH this year we announced Massive 8.0 and Massive for Max. The Previz feature of 8.0 which can simulate and display 20,000 agents in realtime had many people wondering "really?" and "how?". Perhaps an even bigger game-changer is the ability for anyone to make custom brains in minutes with no previous experience by using our new Parts feature. And due to continued requests from the 3DS Max community we are finally releasing Massive for Max. Massive for Max allows for setting up, simming and rendering Massive shots all from within the familiar environment of 3DS Max. Please see the
8.0 press release
for more information.
---
The Hobbit: The Battle of the Five Armies
3 April 2015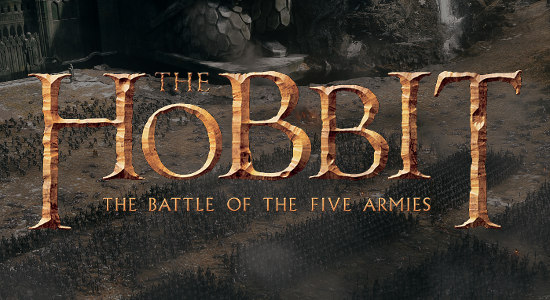 Weta took epic to new levels of quality in The Hobbit: The Battle of the Five Armies. Using Massive they created hundreds of spectacular army and battle shots. Read about how the Weta raised the bar once again in Cinefex #141, and in FXguide #199. And watch out for our exclusive Weta Massive Dept. interview, coming soon.
---
Massive 7.0 announced and shipping soon
12 August 2014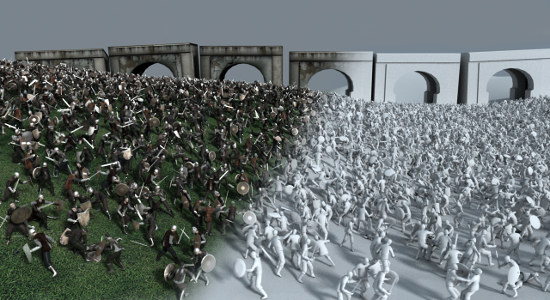 At Siggraph in Vancouver we announced the next wersion of Massive. Massive 7.0 delivers many big improvements in rendering, animation, user interface, Maya integration and efficiency. Arnold has been added to the list of supported renderers, and rendering performance is in some cases many times faster than before. Please see the
7.0 press release
for more information.
---
User Story - Massive Crowds in World War Z
10 September 2013

In our exclusive interview,
Massive Crowds in WWZ
, veteran Crowd Technical Director Lyle Cooley from
Cinesite
explains how Massive was used in quite a range of shots. He also discusses the challenges in setting up a workflow for promoting Massive agents to hero animation rigs; but also the benefits with using Massive which included the quick adaption to changes in the layout.
---
Massive 6.0 and Massive for Maya announced
31 July 2013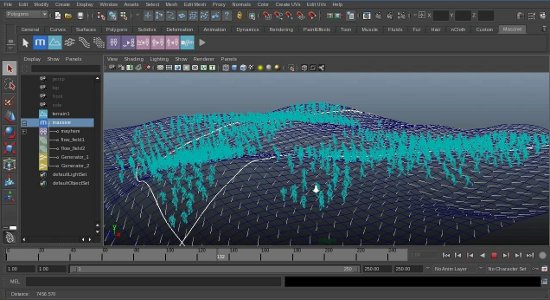 We are proud to announce Massive 6.0 and Massive for Maya. Massive 6.0 brings many exciting new features such as a completely new user interface, 3D placement tools, automatic action importing and bullet dynamics. Massive for Maya facilitates the creation of Massive simulations and setting up lighting and rendering directly in Maya. This will make it easier for smaller studios to get started with Massive, and easier for larger studios to integrate Massive into their pipelines. A major advantage of Massive for Maya is the ability to bring Massive's famous brains to character animation, providing another vital tool for creating the illusion of life. See the
press release
for more details.
---
Massive at Siggraph 2013
10 July 2013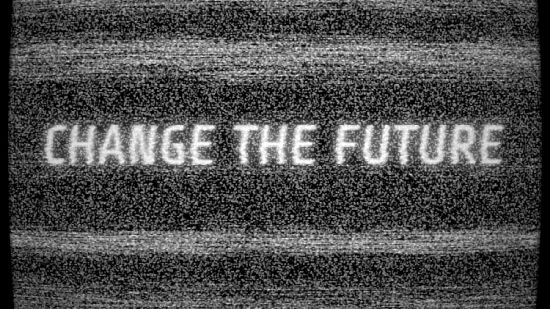 We have some exciting announcements to make this year at Siggraph in Anaheim. We have a booth, number 765, but be warned that it is not the typical Siggraph demo booth. The Massive User Group Meeting will be held on Monday the 22nd of July, so any users who didn't already get an invite please contact us. Further announcements will be made on our website during Siggraph.
---
Massive at FMX 2013
25 April 2013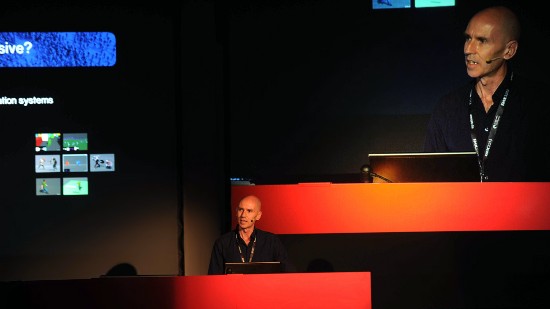 Stephen Regelous, Founder and CEO of Massive Software, presented "Massive & The Illusion of Life" as part of the Virtual Humans Forum at FMX 2013 in Stuttgart. In the talk Stephen explained some of the ways that Massive has been utilised for character animation. Instead of autonomous agents for epic scenes, the increasing use of Massive's artificial life technology for creating the illusion of life in animation was explored.
---
User Story - Massive Crowds in John Carter
05 November 2012

Cinesite
provided plenty of epic crowd shots using Massive for Disney's John Carter. In our latest
user story
, Jane Rotolo, Lead Crowd Technical Director on John Carter tells us a little about using Massive in the production.
---
Massive Software announces Massive 5.0
6 August 2012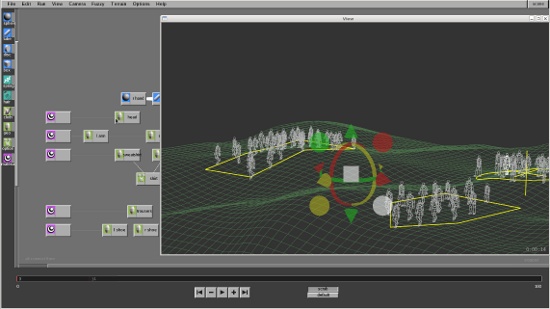 Massive Software announces Massive 5.0 at Siggraph 2012 in Los Angeles, and also announces the surprise 3DS Max Massive Plugin. Massive 5.0 represents a significant upgrade with many new features such as a new patent pending 3D manipulator, faster simulations, sim scrubbing, 3D Lanes, Terrain animation, Z-up scene support and much more. See the
press release
for more details.
---
Massive Software celebrates 10th Birthday
24 May 2012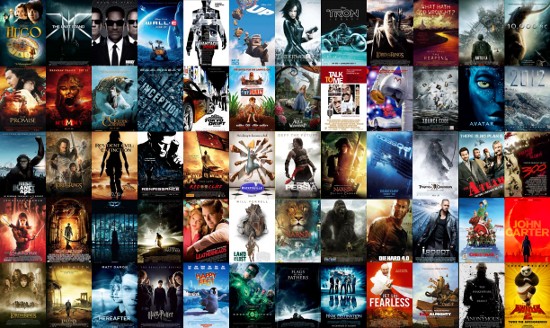 Massive Software was founded in 2002 and today we celebrated the 10th anniversary of the beginning of our company. During that time our software has been used on hundreds of projects including many major feature films. Along the way we received an Academy Award for contributing to the filmmaking process, and we made many friends. Thanks to all of our users who have helped Massive to become something special. We hope to continue contributing to filmmaking, visual effects and animation for many years to come.
---
User Story - Massive Crowds in Hugo
15 February 2012

Hugo has been nominated for 11 Oscars including Best Achievement in Visual Effects, and has received BAFTA's and a Golden Globes award. In our latest
user story
, Adam Watkins, CG Supervisor on Hugo tells us how Massive was used to create the crowd shots.
---
New Ready To Run Car agent
21 September 2011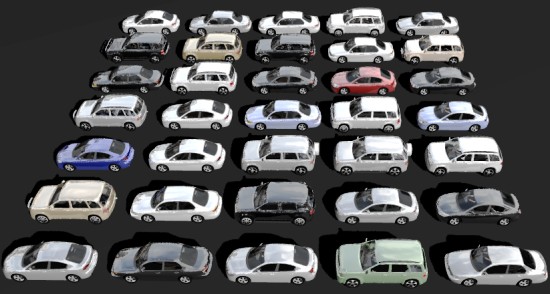 The new Massive Ready To Run car agent is now available. The car agent has a variety of body shapes, grille and light designs, colour schemes and even includes a driver able to turn the steering wheel with his hands. The agent is able to respond to traffic lights, overtake, and avoid collisions by vision. It uses the Massive Lanes technology to navigate the scene, which provides a simple means for integration with cities, roads, motorways etc.
---
Digital Domain creates half a million programs using Massive
3 January 2011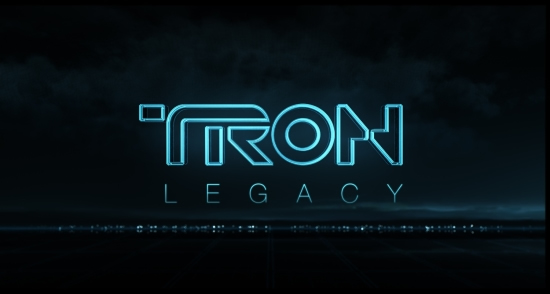 For Tron Legacy Digital Domain created hundreds of shots of stunning 3D visual effects, including a coliseum scene with half a million Massive agents. From the January edition of Cinefex magazine, "The coliseum featured a crowd of 500,000 cheering, jumping and yelling spectator programs in the background, realized through a Massive simulation. "There were 70 or 80 agents, with different levels of activity, sizes, shapes, clothes and so forth, just so we'd see some variation in the background. We needed a lot of activity to fill that coliseum background with energy and life."
---
The Mill sends Massive agents into battle for Merlin
Tuesday 21 December 2010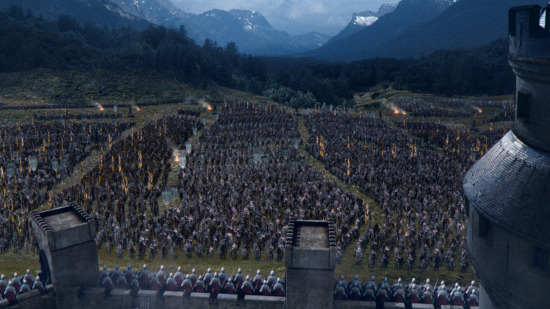 The Massive Combat Sword agent saw plenty of action recently, appearing in three episodes of season 3 of BBC Merlin TV series. The Mill created epic shots of up to 40,000 characters using a modified version of the off-the-shelf Combat Sword agent. In some of the shots two armies of 4000 to 5000 troops collide in battle. According to The Mill regarding a shot in episode 2 "One of the most challenging shots, here the two armies finally collide. The camera is static and the shot relatively close, so it really shows off the automatic combat behaviour of the sword/shield agent. We used a similar approach of terrain colouring, lanes, flow field and invisible collider agents to guide the densely packed formation through the tight gates and boundaries, then to split to two frontlines… Once the agents were near enough to each other all we had to do was let them do their thing and hack eachother to pieces."
The Mill showing once again that epic film scale visual effects can be achieved for television production.
---
Write The Future

The most successful viral ad campaign ever launched
Thursday 27 July 2010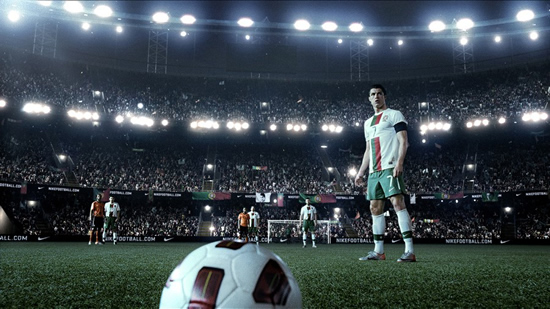 World class visual effects studio The Mill took their pioneering use of Massive to the next level for the epic 3 minute Nike ' Write the Future' spot. Directed by Alejandro Gonzalez Inarritu (21 Grams, Babel), with DP Emmanuel Lubezki (Children of Men), the ad takes people on a journey that dramatically captures that one moment when headlines are written from a single pass, or one strike can bring a nation eternal happiness, while bringing others to their knees. Containing 236 VFX shots, more than 110 Massive shots, the visual effects work was completed in just four weeks. The Mill's Tom Bussell: "On the set, I was a bit nervous about the number of Massive shots planned. So I took lots of video of extras they employed as crowds. In the end we didn't use one single crowd plate - every crowd shot is CG".
'Write the Future' features Cristiano Ronaldo, Wayne Rooney, Didier Drogba, Fabio Cannavaro, Franck Ribery, Cesc Fabregas, Andres Iniesta, Theo Walcott, Landon Donovan, Kobe Bryant and Homer Simpson and is the most successful viral ad campaign ever launched.
---
Massive 4.0, Supporting V–Ray Rendering, is Now Available

Academy Award winning 3D Animation Software for AI–Driven Characters Now Includes Enhanced Agent Fields, New Terrain Nodes and More

Thursday 18 February 2010

Massive Software, developer of the Academy Award®–winning 3D animation software for AI–driven characters, has released Massive 4.0. The latest release includes support for popular V-Ray rendering, new terrain nodes, enhanced brain nodes and agent fields, and many more features and improvements.

Massive allows artists to create and direct anything from CG humanoids to birds, animals, cars and more to deliver realistic and emotive virtual performances. Massive "agents" are 3D characters that use sight, sound and touch to interpret and react autonomously to the world around them. Massive incorporates procedural animation and AI, and is used by professionals in animation, visual effects and design visualization.

"Massive 4.0 is a major release that brings both creative and pipeline flexibility to artists and studios, and fulfills a number of enhancement requests from the Massive community," said Massive Founder and CTO Stephen Regelous. "We've added Terrain nodes, V–Ray support, Python GUI support, Hair/Fur clumping, deep shadow maps, better placement for stadiums, and many other improvements."

Feature Highlights in Massive 4.0

Terrain Nodes – Use an unlimited number of .obj files for terrain geometry; not only for the ground on which Agents walk, but also for walls of buildings, render–only geometry, collision–only geometry and other special purposes.

V–Ray Rendering – Supports this popular renderer, ideal for scenes requiring highly realistic lighting, in the same highly–efficient manner as RenderMan, 3Delight, Air and Mental Ray. Massive generates .vrscene files for the main render files, and for the terrain and agent archive files. It also automatically generates shader dialog parameters for V–Ray material plug–ins and V–Ray materials, giving users complete freedom to assign any available default or custom plug–ins and materials.

Enhanced Agent Fields and Variables – It is now possible to vary each Agent's response to Agent Fields individually using scale and offset parameters such as distance or color. A new plus button in the variables tab makes it easier and more convenient to handle large numbers of Agent/Group variables.
Place Tools – Stadium placement is even easier with the addition of rows and columns to the polygon generator, which allow for locators to be placed in rows and columns in any shape. The polygon generator also offers a handy stagger parameter, which can be used to offset rows laterally.

Hair and Fur Enhancements – Use Deep Shadow Maps to realistically render longer hair and fur and generate high quality self–shadowing; and Hair/Fur Clumping to generate messy, lumpy, or even wet hair or fur.

Brain Node Improvements – Control delay time and filter width in the output node with other nodes in the brain, using new options to select between "latch," "delay," and "filter" as destinations for alternative inputs. To simplify multiple inputs to an input node, a new feature adds values together.

Read more…


---
Avatar, Weta Digital & Massive Plants
Wednesday 20 January 2010





James Cameron's Avatar is the talk of the moment! Here at Massive we are especially proud of the work that Weta Digital have spent the past three years. Massive was used to create the crowds of creatures, humans and in a world first to fill the jungles with plants and trees. Congratulations to Weta Digital for once again taking Massive where no one else has. For more information about Weta Digital's work on the film, including a whole section on the Massive plants and trees, head over to CG Society.