News
Clint Eastwood's Changeling brings Massive to the Foreground
Tuesday 16 December 2008

There are a few great articles available online talking about the visual effects that CIS Vancouver and freelance Massive Supervisor Phil Hartmann created for Clint Eastwood's Changeling. This film features some of the highest quality Massive characters seen to date, and they''re not limited to being background extras. Not only can you see Massive agents featured as foreground characters, but there is also a record–breaking two and a half minute Massive shot to finish the film off with. Be sure to check out these articles for a more indepth look at Massive in Changeling.

CG Society – Guiding the eye to the Invisible Digital Effects for Changeling
Studio Daily – Massive Digital Actors in the Foreground of Changeling
VFXWorld – Changeling: VFX as 'Peripheral Imagery'
---
Massive in The Mummy 3
Wednesday 22 October 2008

The Mummy: Tomb of the Dragon Emperor features a lot of Massive shots from a number of VFX Studios. There is a great article up at fxguide that talks to one of the Massive artists on the film and how they brought the undead armies and terracotta warriors featured in the film to life.

Click here to read the full article.
---
Computer Graphics World - Massive AI creates safer buildings
Sunday 31 August 2008

The August 2008 issue of Computer Graphics World features Massive front and center in the form of an interesting article called 'Unleashing the Artificial Horde'. The journalist – Kenneth Wong – looks at the increasing use of AI simulation software to build safer more efficient buildings. Although here at Massive HQ we're best known for our entertainment customers – we have started to work with a few engineering and architectural firms to push the uses of Massive into a whole new world – the real world!

This might sound like a bit of a jump. What do films and engineering have in common? The answer – quite simply – is that Massive isn't really an animation tool. It's an A.I. authoring tool that can easily create characters – tens, hundreds, thousands – that react to each other and to their environment. Whether it's being used to fill the stadium in a superbowl TV commercial or to show how long it takes to evacuate an unbuilt skyscraper – the principles behind it are the same.

Massive website: Uses of Massive in real world simulation
---
Massive 3.5 debuts at SIGGRAPH 2008
Monday 11 August 2008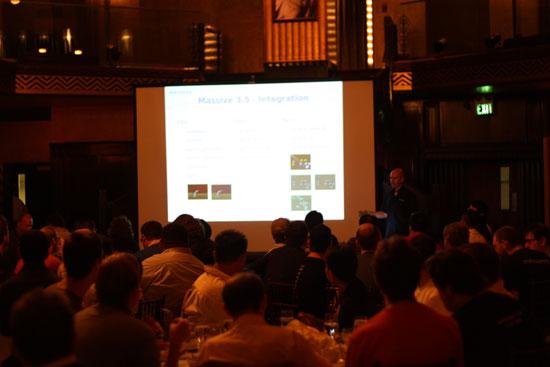 Massive Software today announced Massive 3.5, a new upgrade to Massive, the artificial intelligence (AI) driven animation system. Massive 3.5 follows up on Massive 3.0 with new features, including Agent Fields and improved integration and hair and fur dynamics.

Read more …
---
Massive Software to host events during SIGGRAPH 2008
Thursday 7 August 2008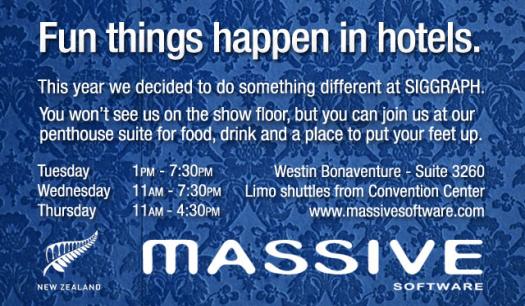 Massive Software, developer of the artificial intelligence–driven animation system Massive, will be in Los Angeles during the SIGGRAPH 2008 conference, showcasing their latest product updates and unique customer projects at special events to be held throughout the show.

Read more…
---
Dalek Attack! The Mill on Doctor Who
Wednesday 2 July 2008

London based The Mill used Massive on the BBC TV series Doctor Who in March 2008. It was the first time that Massive was used in an episode of Doctor Who, but we had our fingers crossed that it wouldn't be the last. Well with the broadcast of 'The Stolen Planet' on June 28th 2008 – the 750th episode of the show since it started in 1963 – we're happy to say that we've finally made it to two, and with quite some style. The Mill used Massive to create a crowd of hundreds of Daleks. It's very cool!
---
Framestore CFC adapt 'The Tale of Despereaux' with Massive
Monday 30 June 2008

Massive VFX house Framestore CFC - based in London – have used Massive on a lot of projects recently, but for the first time ever they're using Massive to create digital crowds on an animated feature. Not just any animated feature though, but one that they are producing themselves. It's an adaptation of Kate DiCamillo's 2004 novel The Tale of Despereaux: Being the Story of a Mouse, a Princess, Some Soup and a Spool of Thread. The first trailer for the film - due to be released December 19 2008 in the USA – has just been put online, and there are a few quick Massive shots in there. Be sure to take a look at the HD version for extra crowd eye candy. Click here to see it for yourself.
---
The Mummy 3 Trailer Features Massive Shots
Monday 26 May 2008

The first trailer for the third installment of The Mummy series is available online at Apple Trailers, and there are some great Massive shots in there. Be sure to take a look at the HD versions for maximum eye candy. Here at Massive HQ we've seen some early tests of the Massive characters for this film, and although we can't say too much, we're looking forward to seeing it on the big screen in August. Click here to see the trailer.
---
CIS Hollywood Fills the Stands for Romantic Comedy Leatherheads
Monday 21 April 2008

Massive, the premier Artificial Intelligence (AI–driven 3D animation software, was used by CIS Hollywood to fill football stadiums with virtual crowds for Universal Pictures' Leatherheads. Directed by George Clooney, and starring Clooney, Renée Zellweger and John Krasinski, the romantic comedy launched in the U.S. on April 4, 2008.

Read more …
---
The Mill dazzles with Massive-heavy Puma commercial
Thursday 17 April 2008

When it comes to making commercials with Massive, no one has as much experience as The Mill. Their most recent television commercial featuring Massive – Puma 'Until Then' – features a single dizzying shot, forty seconds long with a whole lot of cutting edge CGI thrown into the mix, including hundreds of thousands of Massive agents featured as extras in the stadium stands. Be sure to click read more to see some images from the spot and a behind the scenes look, or else take a look at the finished commercial by clicking here.

Read more …
---
BBC's Dr Who gets the Massive treatment from The Mill
Wednesday 9 April 2008

The latest season of the BBC's cult series Doctor Who (now in its 30th season) started recently in the United Kingdom, with London based Massive–shop The Mill taking on VFX duties. In a contrast to the usual big scary monsters the series features, the antagonists in this episode are thousands of Massive–animated blobs of fat called the Adipose. Massive founder, Stephen Regelous – a big Dr Who fan – actually worked on the episode. You can read the rest of that article here. Click read more to see a clip from the show.

Read more …
---
VFX World Article features Massive in Schools
Monday 7 April 2008

Here at Massive we're very proud of the growing number of educational institutions with Massive as part of their curriculum. VFX World has just posted an article that looks at this, called 'Massive Goes to School': Read the full article here.
---
CIS Vancouver Employs Massive Software on Vantage Point
Friday 14 March 2008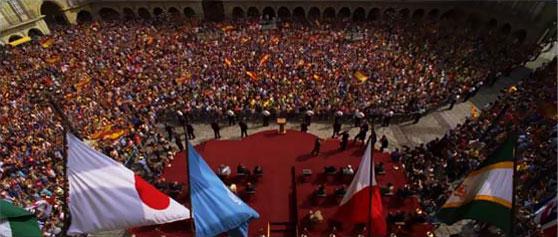 Massive, the premier Artificial Intelligence (AI–driven 3D animation software, was used by CIS Vancouver (formerly Rainmaker Visual Effects) to fill a political rally with crowds of digital protesters, spectators, secret servicemen, security guards, and dignitaries for pivotal sequences in Columbia Pictures' hit film Vantage Point, which opened #1 in the US on February 22, 2008.

Read more …
---
Massive Exhibits at CeBIT 2008
Monday 3 March 2008
Massive software announced today that it will be exhibiting at CeBIT as part of the New Zealand Trade & Enterprise (NZTE) stand along with other exemplary New Zealand–based technology innovators. CeBIT, the world's largest IT and telecommunications trade show, is hosting its first–ever New Zealand Day, created to recognize and celebrate New Zealand's innovative technology and unique culture. CeBIT takes place March 4–9 in Hanover, Germany.

As part of Massive's exhibit, representatives from Hanson Robotics will be on hand to demonstrate Zeno, the first AI–driven robot using the breakthrough artificial intelligence (AI) software from Massive to reason and get smarter over time.

Read more …
---
VFX World interviews Massive Guru Brad Herman
Monday 28 January 2008

VFX World have posted a four page article with Massive artist (and VFX jack of all trades) Brad Herman.

"On both Transformers and At World's End, Herman's expertise in creating crowd effects with Massive and in building organizational pipelines came in handy. In fact, on the latter, Herman was called in to create the armada of ships, complete with individual crews. He began by assembling animation from previous projects to build a pirate army to crew the ships."

You can read the full article here on VFX World.