News
Massive Software to host events during SIGGRAPH 2008
"Massive House Party", User Group Meeting, and Demonstration Suite Coincide with Los Angeles SIGGRAPH Conference
Thursday 7 August 2008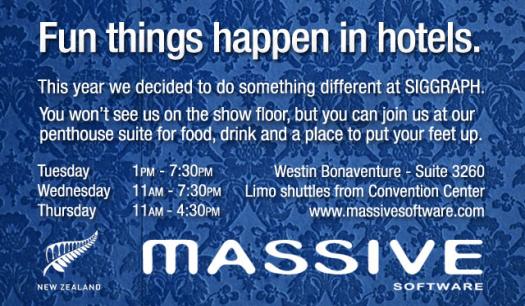 Massive Software, developer of the artificial intelligence–driven animation system Massive, will be in Los Angeles during the SIGGRAPH 2008 conference, showcasing their latest product updates and unique customer projects at special events to be held throughout the show.

Demonstrations are available at the Massive Demo Suite 3260 at the Westin Bonaventure Hotel on the days the show is open. Limousines will be available near the shuttle line and will run between the hotel and the Westin Bonaventure during Massive's suite hours.

Massive will also be hosting a private User Group Meeting, where the company will discuss new product developments and host special guest presentations by Pixar and other Massive customers.

Last but not least, by invitation only Massive will be co–hosting "The Massive House Party" with VICON House of Moves at LA Westside hotspot Custom House Hotel.

About Massive

Academy Award®–winning Massive is the revolutionary 3D animation system that incorporates procedural animation and artificial intelligence. Massive is used by animation and visual effects artists to explore the new world of creative opportunities that AI–enabled characters make possible.

Agents are 3D characters that have a fuzzy logic AI "brain" and the natural senses of sight, sound and touch which enables them to interpret and react autonomously to the world around them. Agents can be just about any character you can imagine from humanoids, birds, animals and insects to inanimate objects such as cars.

The intuitive interface of Massive allows artists to interactively control and direct agents providing highly realistic, directable and emotive performances.

About Massive Software

Massive Software is the leading creator of artificial intelligence–based 3D animation systems. Massive was founded when Stephen Regelous programmed a unique piece of software for director Peter Jackson to make creation of complicated visual effects scenes involving hundreds of thousands of digital characters a practical reality, and has since become the ubiquitous crowd animation solution for film and television. Regelous garnered a Scientific and Engineering Award for Massive from the Academy of Motion Picture Arts and Sciences in 2004.

For more information, please contact Massive North America (+1 310 837 7878), New Zealand (+64 9 3030 030), Europe (+44 20 7096 1605) or visit www.massivesoftware.com.